Top 5 Best WordPress Plugins For Bloggers: Hello friends, welcome to this site today I am going to share good knowledge about plugins I will tell you some useful plugins that you must use in WordPress blog site as a blogger because
this is the time when you can't be a successful blogger without using plugin plugging matters to be a successful blogger here I will tell you about some plugins which will be helpful index your website in search engine optimization.useful WordPress plugin for bloggers.
I will tell you how plugins can change your website look and optimization because this will be helpful for you so let's begin.WordPress plugin for the bloggers
you can also take the help of some free SEO tools.
1. Contact Form 7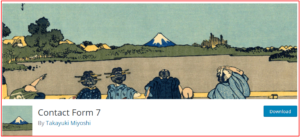 Contact form 7 is the plugin that can add a contact form type on your web page. You can make a page contact us and there you can use this plugin to make a contact form so that
visitors can contact you through name, the email they can submit their name and email on that form and that form details will be sent to your email ID so that
you may understand about your visitors they have sent a notification to contact and you can contact them directly this could be beneficial for your visitors to reach to you so,
you must use contact form 7 because it provides the best free e and customizable form which looks so awesome and simple so you must use this WordPress SEO Plugin For Blog.

2. Yoast SEO.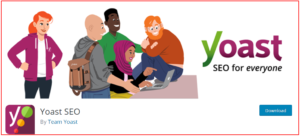 I would like to tell you about us SEO tool which is an SEO plugin you can use for free it is provided by WordPress for the new bloggers it is a God gift because through this
you can rank your post you can add a lot of features to your post when you write down your post you can add the post meta description can set the permalink can optimize your post length writing skill everything
whatever is needed for the SEO you can do this Yoast SEO tool which is totally free for you I want to tell you that it every new blogger use this it is my personal experience that
if you don't have money so you can go with this free version which is totally free easy to use and fast to rank you must use this plugin WordPress Plugin For Blog.

3. Elementor.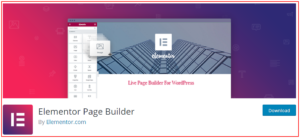 WordPress Plugin For Blog: Elementor is known the best article writing & page builder plugin you can write SEO friendly article here because in the elementary you get a lot of features which helps you to write down google friendly article you can dragon drop everything
whatever you want to add in an article such as you can add a toggle, images, social icon, author etc.whatever will make your article better in a look that you can do through Elementor and this is also true that  80% of bloggers use this plugin to write down the article because
it really helps to the largest extent and you can make your work easy the Elementor is based upon a dragon drop and what design you want to give your article can give the shape you want to give your article can give.
it can also be helpful to get AdSense approval because you can create SEO friendly blog page.
this is the power of element how you can make your article attractive and beautiful so that visitors can stay to your articles to read out they will not leave the website before reading the article properly but you should have proper content.

4. Amp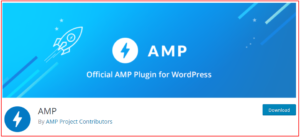 This is an amp plugin that you must activate and install your WordPress website because this is the plugin that is made to make websites fast in loading how fast your web page loads. when someone comes to the website the time he wants results should be soon he will not wait for a long time so
you must use this plugin it will make your website fast and you can open any web page as soon as possible. visitors would like to read the whole article when any web page loads fast otherwise if
your website is loading slow at that time he will cut your website and we'll go to another website so you have to think about your visitors who want to see the result as soon as possible.

5. Mail poet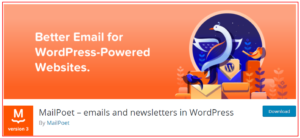 This is a plugin which can be too much useful for a blogger because through this you can add a subscription button your blog web page it will be beneficial because if any visitors come then he can subscribe your website
After that whatever post you write then this plugin will send a notification automatically to your subscriber then he can see that mail and if the topic is interesting then he would like to read this through this plugin
you can create a strong audience that will keep reading your articles on a daily basis in this plugin you can design mail that will go to your subscriber
that should be interesting and attractive so that your subscriber and visitor would click to read more than he will be attached to you totally.

Top 5 Best WordPress Plugins For Bloggers.
Conclusion: we discussed the top 5 best wordpress plugin which can be used for blogging by bloggers these will be useful during blogging especially for the new bloggers
these are the most important plugins to start a blog, WordPress Plugin For Blog, WordPress plugin for blog site, blog plugin for website.
Also Read: