In the dynamic world of website design, user experience, and visual appeal play a pivotal role in engaging visitors and converting them into loyal customers.
WordPress, as one of the most popular content management systems, has paved the way for creative and efficient website building. One of the key features that have contributed to WordPress's dominance is the availability of diverse page builders.
These tools empower both novice and experienced designers to create stunning websites without delving into complex coding.
In this article, we will delve into the top five WordPress page builders, examining their features, advantages, and disadvantages.
Whether you're a business owner, a blogger, or a web designer, this guide will help you make an informed decision on which page builder best suits your needs.
Elementor

Elementor has rapidly established itself as one of the leading WordPress page builders. Its intuitive drag-and-drop interface empowers users to design visually appealing websites without any coding knowledge. With a vast array of widgets and templates, Elementor offers endless customization possibilities.
Advantages:
Elementor's real-time preview allows you to see changes as you make them, eliminating the need to constantly switch between editing and preview modes.

The extensive template library provides pre-designed sections and complete page layouts, giving your website a professional look in minutes.

Elementor seamlessly integrates with third-party plugins, extending its functionality to include advanced forms, e-commerce, and more.

The built-in responsiveness settings ensure your website looks great on all devices.

The Elementor community is active and offers a wealth of tutorials, resources, and add-ons.
Disadvantages:
Despite its user-friendly interface, mastering all the features might take time, particularly for beginners.

 Overuse of animations and heavy widgets can potentially slow down page loading times.
Beaver Builder
Beaver Builder is another popular WordPress page builder that focuses on simplicity and efficiency. It provides an easy-to-use front-end editor, making it a great choice for users looking to build responsive websites without any coding hassles.
Advantages:
Beaver Builder's front-end editing allows you to see changes in real-time, offering a seamless design experience.

The module library includes a wide range of content elements, ensuring you can add diverse content types to your pages.

Beaver Builder works well with most WordPress themes, allowing you to maintain your preferred design.

It's a viable choice for those managing multiple WordPress sites within a network.
Disadvantages:
While Beaver Builder offers good customization options, some users might find its styling capabilities slightly restrictive compared to other builders.

The free version of Beaver Builder has limitations in terms of modules and templates.

Divi Builder, developed by Elegant Themes, is known for its versatility and comprehensive design capabilities. It's part of the Divi Theme, but it can also be used as a standalone plugin with other themes.
Advantages:
 Divi Builder provides a powerful visual editor that allows you to create complex layouts with ease.

You can save any layout, module, or design element as a global item for easy replication across multiple pages.

Designing for different devices is simplified with Divi Builder's responsive editing tools.

The built-in A/B testing feature helps you optimize your designs for better conversion rates.
Disadvantages:
If you deactivate Divi Builder, the content created with it might leave behind shortcodes, potentially affecting the appearance of your pages.

Similar to Elementor, Divi Builder's extensive features can take time to master.
WPBakery Page Builder

WPBakery Page Builder, formerly known as Visual Composer, has been a staple in the WordPress page-building landscape for quite some time. It offers a back-end editor, allowing users to create complex layouts and designs.
Advantages:
WPBakery provides both back-end and front-end editing options, catering to users with different preferences.

You can extend the builder's functionality to custom post types, offering more design possibilities.

Advanced user role management lets you control who can access and edit content within the builder.
Disadvantages:
Some users might find the interface overwhelming due to the sheer number of options and settings.

Over time, websites built with WPBakery might become more dependent on the builder's code, potentially causing issues if you decide to switch to a different tool.
SiteOrigin Page Builder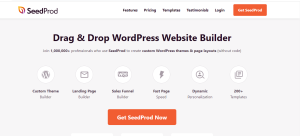 SiteOrigin Page Builder is a free WordPress plugin that focuses on simplicity and compatibility. It offers a straightforward row and widget-based approach to design.
Advantages:
SiteOrigin Page Builder is a budget-friendly option that doesn't compromise on core features.

You can revert to previous versions of your layouts using the history revisions feature.

SiteOrigin offers additional widgets as a bundle, enhancing the capabilities of the page builder.
Disadvantages:
Unlike some other builders, SiteOrigin's template library might feel limited in terms of design options.

While it allows customization, the styling options might not be as comprehensive as those offered by other builders.
Conclusion
Choosing the right WordPress page builder is a crucial decision that can significantly impact your website's design and functionality.
Each of the top five page builders—Elementor, Beaver Builder, Divi Builder, WPBakery Page Builder, and SiteOrigin Page Builder—has its own strengths and weaknesses.
The choice depends on your familiarity with the tool, your design preferences, and the specific requirements of your project.
Whether you prioritize real-time editing, a broad range of templates, or advanced customization options, there's a WordPress page builder that caters to your needs.
As the web design landscape continues to evolve, these page builders will likely adapt and improve, providing even more powerful tools for creating captivating and functional websites.