Optimize Post: 100% On Page Seo Using Rank Math: Hello, friends welcome to this blog I am going to tell you about the most useful topic about rank math on-page SEO
you know nowadays rank math plugin is too famous. WordPress users are using rank math plugin because it is giving a lot of features and quality functions through that
you can do proper on-page SEO in your post, therefore, I will tell you in every step how you can do on-page SEO using rank math plugin easily and
that will be helpful for you to rank any post on Google first page. I will tell you the early steps to doing on-page SEO with rank math plugin because
you know about SEO how important it is without you can never rank your post on Google let's begin to this topic on page seo using rank math.
Find keywords
.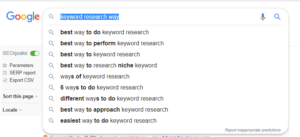 on page seo using rank math: The first thing is to do on-page SEO is to find out keywords because keywords are the most important thing to rank any post, therefore, you should collect some keywords from any tool if
you have money so you can go with a paid tool otherwise you can use a free tool that I have also written a blog post you can find the link below the post so
guys the first work is to find out difficult keywords or long-tail keywords from any method.
Must Read: The Ultimate Guide To Keyword Research For SEO (2021)
Add keywords in the focus keyword box.

Friends after collecting the keywords you have to go to your blog post then see below blog post there will be a box regarding focus keywords then you have to submit your all focus keywords in that field and
you have to keep your main keyword at first then you will be able to do proper on-page SEO. learn google ranking factor
Add first focused keyword in title, URL and meta description.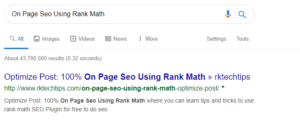 Guys, the most important thing is to use your first focus keyword in the title, URL, and meta description which is the most important thing it will increase the number of your SEO.
when you add the focus keyword in the title, URL, and meta description then Google will automatically rank your post because when any person search on Google so Google provides that result where
Google finds that the keyword which is searched by the person and keyboard should be in the title and meta description at least so it is the most essential thing you must do on-page SEO using rank math
Use Focused Keyword In Starting In Article And H2 Tag.
This is also the necessary thing that you must use focus keywords in starting of the article and in the H2 tag which will help your post to be ranked on Google Google can easily find out your keyboard and can rank your post on google easily.
you have to use your first focus keyword at the starting of the article and had to use it in the H2 tag anywhere in the article and about other photos keywords, you can use anywhere in the article.
which will help you to gain SEO rank. Remember this thing that you have to use your keywords in your article then finally you will be able to rank your post.
Add keywords In Alt Image And Description.

thanks this is also the most essential thing which will help you to do image SEO. where you don't have to do hard work just copy your all keywords and paste into the alt tag and description box.
which will find while uploading an image when your images uploaded then you will see a box
where you will see all the tag and description box you can add your keywords and submit it will also help you to increase your SEO rank on google.
Do Internal linking.
guys internal linking is also the most useful thing to do on-page SEO you can give a link on some words related post link you can attach your 2 or 3 posts each other using internal links.
You can also do this method that also read and you can give some article links below it will also help you set internal link.
Must Read: 6 WordPress Internal Linking Plugin To Enrich URL Rating For SEO
Optimize Post: 100% On Page Seo Using Rank Math
Conclusion: We discussed rank math SEO plugin which can help to write SEO friendly article easily with the guidance, on page seo using rank math,
how to use rank math for SEO, tips and tricks to use rank math, Rank Math seo Plugin, advance on page seo tutorial in 2021 I hope you understand the points I shared.
Also Read: