How to make money with a blog

How do blogs make money?

How to start a blog to make money

How to blog and make money

How to start a blog and make money

Can I make money blogging?

How to make money from blogging
Practical Guide: How to make money blogging: If you have these questions which are mentioned above So keep reading. have you ever wondered
if you can make money from your blog? The truth is- you can. In fact, there are many ways you can earn from your blog.
Money can be earned from blogging in two ways- active and passive. In the active method, you create something to earn money. In the passive method, you let companies promote in your blog.
In this blog, you will learn the top 5 practical ways of earning from your blog. The first two are passive income methods.
The next two are active methods. The last can be either of the ones depending on the type you use, learn How to make money blogging.
(1). Advertisement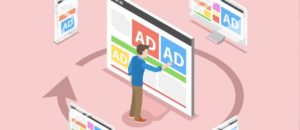 Advertisement is considered the quickest and the easiest way to earn money from your blog. All you need to do is sign-up with one of the advertisement networks.
If you are approved by them, you can start displaying ads on your blog site.
Although ads are the easiest way to earn money, you will need time to make a substantial income from them. This is because earnings from ads depend on your blog traffic. As your blog traffic increases, so will your ad income.
How your blog will earn money from ads?
Advertisement networks will usually help you in setting up the ad code on your site. You earn money from advertisements from either of the two following ways:
1. Cost-per-click (CPC) /Pay-per-click (PPC) Ads: You are paid each time a visitor clicks on the ads.
2. Cost per 1000 impressions (CPM) Ads: You are paid a fixed amount depending on the number of visitors who viewed the ads.
Choosing an ad network
The first step in earning through ads is to choose an ad network. Although you can sell ad spaces directly, it will consume a lot of your time. By shouldering the work to ad networks,
you can concentrate on making great blog posts and distribute it all over the internet to get visitors to your website. Here's a great content marketing guide you must read which is published by Najmc. 
Here are some of the best ad networks out there:
1. Google AdSense: Google AdSense is the most popular ad network. Working with it is also simple- you place the ad banner and AdSense will choose the ads most relevant to your blog content.
You can also set rules on ad placing as well.
2. Mediavine: Mediavine is an ad network that helps you maximize your earnings from ads through its technical support. Bloggers typically report higher earnings from Mediavine.
However, you need to have 25,000 engagements over a 30 day period in order to join this network.
3. Media.net: Media.net is a popular ad network for beginner bloggers. It optimizes the ads displayed on your site to give you the maximum earning. The ad network also offers dedicated support.
(2). Affiliate Marketing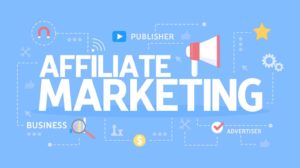 How to make money blogging: Another way you can earn money quickly is through affiliate marketing. In affiliate marketing, you promote the goods or services of a company through a custom link.
If any visitor clicks the link and buys, you get a commission!
Depending on the niche, you can get commissions ranging from 5% to 60%.
Moreover, the amount of money earned from affiliate marketing is often higher than that earned from advertising. So affiliate marketing is more lucrative.
Getting started with affiliate marketing- choosing a network
You can affiliate with a company whose product or service your audience will find relevant and helpful. Often the company's site has a section on joining its affiliate program. 
If direct affiliation seems a difficult task for you, you can join one of the affiliate networks available. These networks will work as the intermediary between you and the companies.
Such networks often provide supports and tools like traffic monitoring which direct affiliate programs do not provide most of the time.
Some of the best affiliate marketing networks are:
1. Amazon Associates: Amazon's affiliate program allows you to earn money while you refer your blog audience to the world's largest e-commerce store.
You can refer to the many thousands of products Amazon has to offer. Being such a popular store, you can be sure of your audience clicking on your referral link.
2. ShareASale: ShareASale is one of the most popular affiliate marketing networks. It has networks of affiliate programs of every category imaginable! It also offers high paying commissions for affiliates.
3. CJ Affiliate: CJ Affiliate is also one of the top affiliate marketing networks available online. It is used by many top websites worldwide.
Its networks of affiliate programs are categorized neatly and easily searchable for you to find.
Before you start affiliate marketing
Before joining any affiliate program, make sure the product or service sold by the program providing company is something you can promote on your blog.
If your audience does not expect any such promotions, then you should not join any such affiliate program.
Moreover, only promote products or services that you yourself personally use. That way, you can recommend the products honestly. 
(3). Ebook selling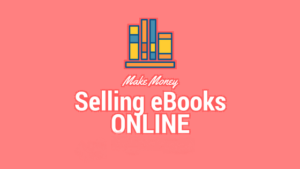 Advertising and affiliate marketing are all ways to earn income passively(How to make money blogging). If you want to earn money from your blog content, selling ebooks is a great option.
You need to organize your blog posts in a logical order and publish them as an ebook.
The main advantage of selling ebooks is that you get a higher margin as the costs involved with the physical book publishing are minimized. The process of publishing an ebook is also less time-consuming.
Guideline for selling ebooks
Here are some things you need to keep in mind while selling your ebook for your blog:
1. Niche topic: Write your ebook on a field you are proficient with. The ebook should be on something your blog audience is constantly searching for information. Deliver a niche ebook that will answer your audience's questions. 
2. A payment channel: Have a payment channel so that customers can send their money to you. Select a payment method (PayPal, mobile payment, or credit card) which is generally used by your blog audience.
3. Download link: Once your customers pay, you can email them the download link of your ebook. You can publish your ebook either in pdf or epub or in both.
4. Content: Organize your blog posts in a logical coherent order. Don't just copy-paste.
You can add additional information like questions often asked by your audience and remove some links. Also, add an introduction and a conclusion to your ebook.
5. Cover page: Have a well-designed cover page for your ebook. You can use Canva to design a professional level cover or even hire a designer for this purpose.
6. Editing and proofreading: Ensure the contents are thoroughly edited and proofread. Typos and inconsistent formatting are often an eye-sore. Hire someone to do the proofreading for you for better results.
One thing to remember is that the audience who is buying your ebook is actually giving time and money to read your ebook.
So be careful when you decide to monetize your blog through selling ebooks. learn How to make money blogging.
(4). Digital Products and Service Selling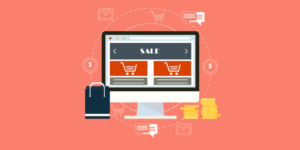 How to make money blogging: Another active way of earning income from your blog is through selling digital products and services through your blog site(How to make money blogging).
The main advantage of this method is that it involves low-maintenance: you do not need to exert efforts after creating the product or service.
Here are some digital products and services that you can sell to monetize from your blog:
1. Online course: Provide an online course based on your niche to your blog audience. You can charge a premium for your expertise.
All you need to do beforehand is to create the learning materials as well as some support tools such as reading notes, downloadable slides, etc.
2. Paid webinars: Similar to online courses, but with lower fees. You can host live webinars with paid entry.
Paid webinars are also a way to increase engagement as there are scopes for live question and answer sessions.
3. Consultancy: You can offer a paid one-to-one consultancy service offer. The one-to-one nature means you can charge a good price for your expertise.
4. Fan products: You can open an e-commerce site based on your blog site and sell t-shirts, mugs, and other fan products.
An e-commerce site will involve a lot of work- creating, storing, and delivering products. But is an important way to earn money.
(5). Sponsored Posting
How to make money blogging: Sponsored Posting can be either an active or a passive income source– depending on the type of posting.
You can earn money either by allowing brands to promote on your blog or write blogs on other platforms.
Sponsored posting takes two forms:
1. Paid promotion post: It is an active income method. In this type of post, brands sponsor your blog post. A section of your blog post may be dedicated to promoting the sponsor brand. 
2. Syndicated post: This one is a passive income method. You let other platforms post your blog on their websites.
You earn money by allowing them permission to post. Your name as the author will remain.
Practical Guide: How to make money blogging
Conclusion: we discussed here top 5 practical ways to make money from a blog, How to make money blogging, How To Make Money through Blogging,
ways to make money from home, How to make money with a blog, How To Make Money Online through Blogging I hope you understand the points I have shared.
Read More: