20 Best Social Media Marketing Tools To Dominate Social Media: Hello, friends welcome to this blog post which is going to be amazing here I will discuss the 20 best social media marketing tools that will help to boost your engagement on social networks.
As you know running a business manually is more time-consuming you will have seen when you do everything manually in your business so that time you spent a lot of time more than achieving.
Earlier social media platforms were not important but this time these have been more essential for our business.
There are more chances to succeed in social media marketing because we use here systemized tools. Everything works online we don't need to do manually and time waste.
You don't have to do hard work just have to share posts on Twitter, Facebook, Instagram, Pinterest, etc. Then you have to monitor everything such as comments followers like on a daily basis.
Nowadays many advanced social media marketing tools are available in the market which cares about your social media task and boosts your social engagement.
Before starting I would like to tell you some benefits of social media marketing that will help you to be aware of how essential social media is for your business this time.
# Build Awareness:
If people don't know about your business, they can never be your customer. Social Media Marketing makes your business visible to potential customers online you can reach more customers using efforts.
# Increase Engagement:
You can get good engagement for your business through social media marketing using some strategies such as: creating attractive content, and informative content you can boost your sales through social media marketing.
# Grow Affordably:
On social media marketing, you never waste your money you only invest a potential amount to reach more customers through investing in campaigns and advertisement
20 Best Social Media Marketing Tools That Will Boost Engagement
I have mentioned the best social media tools from where you can pick ok as per your need and can target your all type of business boost and your engagement.
I will share twenty social media marketing tools few of them will be totally free and most of them will offer a free trial which you can take for test after that you can purchase that tool as a premium version.
1. MissingLettr (create social media content)
MissingLettr: Guys this truth is acceptable that creating social media content is a much time-consuming process we invest our more time to create social media content.
This is what is solved by MissingLettr for all content creators, agencies, and businesses.
Probably this is the greatest way to create social media content using your existing articles automatically.
It totally takes care of your publishing content and schedule post.
This is a paid tool but you can take the free trial for some days after that you can decide to go with a premium version.
2. Canva
Canva: guys these are amazing social media marketing tools Whenever any user reads your article or hears about your article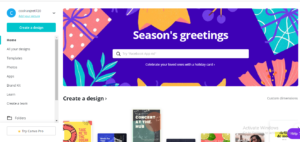 so he remembers only 10 to 20% after a week but if there is a relevant image along with information then the user remembers that information 60% after a week.
This is the biggest reason that social media marketers always prefer you to go with visual content marketing on social media platforms even you can use on blogs.
Canva is a platform that has been the greatest tool for creating any type of image for your blog and social media marketing.
You don't need to be a graphic designer just go to the Canva website and you can easily create amazing visual content using Canva templates what they offer for free.
This is a really amazing tool it can change any odd look image into professional visual content using little bit effort so you must use this to boost engagement on social media.
# How to create visual content/graphic on Canva;
3. AgoraPulse
AgoraPulse: If you are looking for a tool that can be a solution to manage your Twitter profile so this is Agorapulse.
This is also one of the best social media marketing tool which helps boost your engagement on Twitter, Facebook and some other supported social media platforms.
If you want to pick the right tool to manage your social media platforms so that tool should have some qualities such
as publishing content, monitoring content, and showing engagement on a single dashboard.
so you can go with this tool will really make your life easier.
This tool has the best thing that you can save your reply suppose you have to reply to the same answer on repeated questions so it will reply automatically to the repeated questions
4. Sprout Social
Sprout Social: As you know people always want quick responses and reply to the query or questions they ask critically.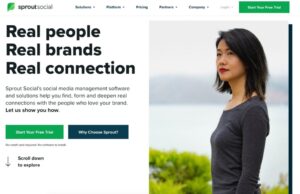 Sprout Social is a tool that provides you a fast and reliable way to respond or answers your visitor, customer, and client questions and queries.
This tool helps your service to make more professional by giving responses to your customers of our clients as soon as possible on all social media networks.
This tool basically make your communication and relation with the client faster and smarter
5. Social Mention
Social Mention: Guys this could be an amazing tool to know about your client experience on your social media networks.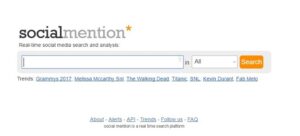 If you want to know how many people are talking about your business, brand, product, and services on social media platforms.
So the social mention tool can be the right choice to help what you need.
This is a type of social media marketing tools and analytics tool which gathers the information generated by the uses in a single time.
this tool gathers all information from the users but they are talking and thinking about your business and brand you can know about how popular you have been after using this tool.
6. Crowdfire
Crowdfire: is an amazing tool and one of the popular tool which can manage your all content and schedule post on Twitter.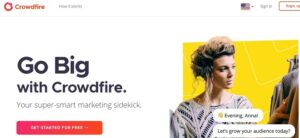 Along with twitter it also supports social media platforms such as Facebook, Instagram, Linkedin, Pinterest, YouTube, and Twitch, etc.
There is a more essential feature available on this website is about topic suggestions it helps to discover topics you are interested in after that, you can add that article on your Twitter or on other social media platforms with one click.
Crowdfire also suggests which is the right time to tweet on Twitter which is a positive point for you.
7. Adobe Express
Adobe Express: If you are looking for a tool that can help you to create amazing videos and graphics so Adobe Express ok is an amazing tool.
This can help you to create we design graphics that are socially engaging.
This tool can also help you to create relevant ads to get high CTR (click-through rate).
Creating attractive and relevant images through this tool can help your image go viral on social media networks.
The more relevant your post will be the more you will be engaged by the visitors.
one thing is a more important feature is available that you can create the perfect size of content about all social media platforms with different sizes.
8. SocialPilot
SocialPilot: This is a simple and cost-effective social media marketing tool and social managing tool for all businesses and agencies.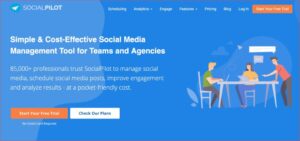 If you want your social media campaign to be on the great height.
So the SocialPilot tool will be fit for this you can schedule up to 2000 social media posts based on their business plan.
You can easily analyze the activities on a social media post made by you through this tool.
You can download its mobile app then you can make it easier to schedule your post content from the fingertips
Must Read: 10+ Google Ranking Factors You Must Follow
9. Hootsuite
Hootsuite is one of the most popular social media marketing tool available on the internet.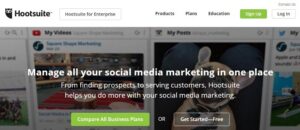 This tool helps you to connect more than 30 social media networks instantly.
On a single click, you can decide your post and content it has to be delivered on your profile across many social media platforms.
On using this tool you get a dashboard where you can easily and quickly engage, collaborate, and analyze your best content and post.
This tool can really help you to manage and schedule all social media platform content.
10. MeetEdgar
MeetEdgar: As you know content is a backbone of social media marketing if content marketing is done properly so it can take your business from here to there.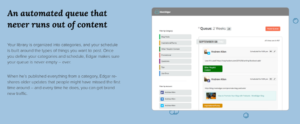 As you know in this competitive generation it has been more time consuming to create powerful and relevant content and It is not so easy.
So why should we waste our time on creating more new content because we can reuse are content to market ourself again?
These days 60% of marketers are there that reuse their content and grow themselves.
Edger not only focuses on your new to post it also tracks your old content for you and helps it to republish at the right time.
11. WhoUnfollowedMe
WhoUnfollwMe: Many times you have seen many people follow you on Twitter only to get follow back.

After some time they unfollow you and you can't track who is unfollowing you.
So WhoUnfollowMe can help you to get the exact picture and track those who are unfollowing you on Twitter.
This tool will give you insight and analytics that your content is engaging on Twitter or not.
12. Iconosquare
Iconosquare: is an amazing social media marketing tool for the Instagram influencers it provides you important analytics and metric of your Instagram account.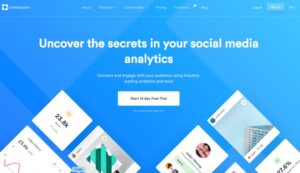 On using this amazing tool you can check the number of likes you have received on Instagram post the average likes, comments, share per day.
it will provide you the proper growth chart of your Instagram followers and much more advanced analytics features are available on this tool.
It basically helps you to analyze and track your lead conversions. It helps to bind you and your customer in good communication and relation.
13. Pinterest Analytics
Pinterest analytics: is one of the great social media marketing tools to analyze and track your pins.
Everyone wants to know how many people are pinning on their website and click on their content.
Through the Pinterest analytics tool, you can easily check your all stats from your Pinterest profile.
This tool also shows you the highest performing pin that is providing you good engagement from your followers to your business.
14. TailwindApp
TailwindApp: one of the popular social media marketing tools is designed and developed to help up in your Pinterest marketing efforts.
If you use Pinterest to boost your sale so you must use this tool because it helps you in bulk uploading content, calendar scheduling and here you can also create multiple boards to create bulk pins.
This tool assists you to find out the best time when your pins should be delivered to the audience so that you can get a good response from your targeted audience and visitors.
15. Brand24
Brand24: Whenever you list or mention your business on Twitter or other social media platforms so it takes a lot of time to mention your brand.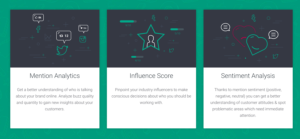 on every social media platform but using this tool brand24 can make it easier. Many times you are not on social media to respond to your visitors or customers so
At that time this tool helps to respond to all the negative and positive comments regarding your business and brand with a reasonable amount.
16. Twitter Analytics
Twitter analytics: is a free tool to analyze your Twitter account using this tool it becomes easier to measure and boost your Twitter marketing.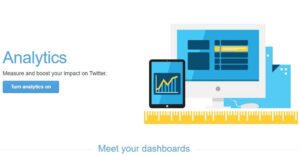 It not only analyze and measure your content and engagement but also helps you to make successful tweets.
You can know how Twitter works to get more likes and engagement, what is the interest of your followers and you can also know how to do twitter marketing to improve engagement.
17. Tagboard
TagBoard: Main expert and experienced social media marketers are there who recommend this tool to boost your engagement and sale on social media platforms.
It helps you to work on a real-time basis because you can search here hashtags after that it will populate the negative and positive comments and result about your brand.
It is the right tool to keep your attention on social media activities and it also provides clear and current data of analytics.
18. NewsLit
NewsLit: Social media marketing has a successful principal to know about your customer interest and like whatever the like if you provide them they obviously engage with you.
NewsLit tool can analyze and short out all the essential information regarding customer interest.
This tool will always keep you up-to-date about the activity going in your circle and audience group.
Its Android application and IOS are available you can use them.
19. BuzzSumo
BuzzSumo: the tool is more important for any social media marketer it helps you to understand competition regarding your business and niche.
It shows search criteria based on keywords using this tool you can easily short out most relevant and shared content.
After that, you can get to know what is working well in your niche and business.
This tool is getting more popular nowadays because this also helps you to filter content is based on date, popularity, and trend.
20. Feedly
Feedly: the tool is amazing for us we must use this tool to know what is going on our social media platforms.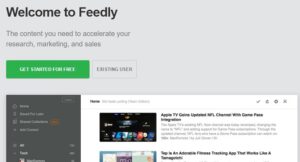 It is a great tool that informs us about our competitor growth and content it makes us up to date
what is in the trending and working which is necessary for our social media marketing growth.
This is an amazing tool to know your competitor's growth and trends of success.
Conclusion
I have shared here the top 20 social media marketing tools that you can boost engagement on social media and can dominate social media marketing as soon as possible using these tools.
the tools I have shared uses by professional marketers you can go with these to play on social media.
Read More: