Why Email Marketing Is Essential For Your Bussines? – Interacting with existing customers and approaching new customers are the two most redundant things every business has to deal with.
How easily these tasks will be done depends on many different things and your medium of communication is among one of them.
No wonder emails have become one of the essential parts of any business organization. Whether it is for professional communications or internal purposes, emails are the first preference for a medium of communication.
But how can you utilize them for marketing purposes and grow your business quickly?
Let's find out why email marketing is essential for any business and why you should start relying on email marketing starting from today!
What Is Email Marketing?
You can think of email marketing as a way of connecting with people professionally via email broadcasting services. Here the people can be your potential customers or the people who are already using your products/services for a long time.
However, email marketing is not solely built for promotional purposes. Especially from a businessmen's point of view, you should not limit the usage of emails for marketing purposes. Email marketing is like a
Why Email Marketing Is Essential For Your Bussines?
Now you know what email marketing exactly is and how does it work. And hopefully, you might have started thinking about different ways of how you can integrate it with your current business. 
In case, if you are clueless at the moment, don't worry because we are going to discuss 6 solid reasons why email marketing is essential for your business and how you can benefit from it.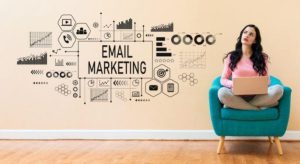 1. More Affordable
Unlike other marketing methods, email marketing is way more affordable and effective at the same time. If you compare email marketing with other marketing methods such as running PPC ad campaigns, paid promotions, etc, it is clear that email marketing is more affordable.
Moreover, you can start email marketing with minimum resources and investment. For growing your business, investing in a trustworthy email marketing tool like Aweber or SendInBlue is not a big deal. This will help you manage the email records more effectively and automate the process.
2. Helps You Create A Personal Bond
Without a doubt, industry-level relations are good for any business but creating a personal bonding with your potential customers is essential as well. 
The good thing is that email marketing allows you to land right into the inbox of your subscribers. This makes it easier to communicate with them personally.
Therefore, Gather as much information as you can about your customers like their birthdays and interests to send personalized emails that they will love! Because the majority of people nowadays avoid opening any emails they don't find interesting.
So targeting their personalized interests can help you gain more attention from them and build a strong personal bond.
3. Recycling Of Previous Leads
If you are doing email marketing for a long time you may already know that it includes building a mailing list. This list consists of those people who are interested in your product, your advice, and most importantly you as a business owner.
Once, collect an email list with a decent number of subscribers with email marketing, they become your evergreen source of more traffic. However, we can not call them 100% because some of them might unsubscribe due to any reason.
4. Fast, Flexible, And Easy To Measure
One of the major reasons why email marketing is essential for any business is its simplicity. Even a non-technical person can learn how to send emails or simply automate the process with the right tools.
Above all, email marketing is fast, flexible, and easy to measure in comparison to other marketing alternatives such as Google Ads, Influencer marketing, or running CPA campaigns.
A single glance at your email marketing software dashboard can give you a clear idea of how many people are engaging with your emails and what is the current status of your marketing process.
5. It Helps You Grow As A Brand
Email marketing is not just meant for marketing purposes. The term email marketing has a lot of added benefits and growing as a successful brand is one of them. 
For instance, if you are a fashion designer expert and recently decided to start your own fashion blog, utilizing email marketing from the start can help you grow as a fashion brand comparatively faster.
Hence, we recommend using your brand name with the signature of each email. These professional emails will help you spread brand awareness automatically. Because whenever someone interacts with your emails, they will see your brand name with your initials for sure.
6. Makes It Easier To Receive Suggestions
Accepting suggestions and improving your services/product accordingly is an important part of making any business successful. 
Especially, if your business is online and most of your interactions are online, utilizing email marketing and receiving suggestions from like-minded people who are in constant touch is easier.
However, it doesn't mean that you should pay attention to the suggestions from professionals only. Taking the suggestions into account from each customer is important for providing the best possible service.
7. Helps You Understand The Customer's Behavior
Understanding a customer's behavior can help a business in many ways. From promoting specialized products to a particular customer to improving your site experience according to the user activity.
These small improvements will be useful for growing your business to some extent.
In addition, you can create a list of people who interact with your emails more often than others. Because they are more likely to purchase your product/services as they are already interested in them.
Final Thoughts
Doesn't matter if your main customer base is offline or online, entrusting your business with email marketing will never disappoint you with results if you do it the right way.
If you take a look at the number of significant benefits email marketing holds, you are more likely to start it right now.
In conclusion, if you wish to compete with others in the offline and online markets then starting email marketing is mandatory.
Still, if you do not feel convinced enough then make sure to go through the complete article. Feel free to ask questions if you have any and share this informative post with other business owners as well.
Read More: