Today, many writers use text summarization or write a text's summary to give the reader a glimpse into their writing. These brief descriptions are essential for various uses, such as social media captions and emails, but most importantly, meta descriptions.
Using an array of keywords in meta-description is a necessity. Since 43% of Google searchers click on any result based on a blog's meta description. That's why it's necessary to write good summaries of your text. But, that's not always easy.
Because how can you sum content worth hundreds of words' within a few words? Not only it's difficult, but it also risks missing out on essential elements of your articles. That's why many writers use text summarizers for SEO purposes.
So, how can you write good descriptions of your content for an important on-page SEO element? Then let's dive in deeper and understand the Top benefits of text summarization and its uses of it in SEO. 
What is Text Summarization
Text summarization is the technique in which the most significant information from a source/s is distilled down to the bare minimum for a particular user/s and task/s. 
However, that doesn't mean Text summarization is only about shortening long texts. Actually, it's about briefing the reader about your content's context. 
This brief or summary relates to the information so that it could find in said content. So, what exactly are its uses? 
Uses of Text summarization in Digital Marketing
The initial thing we need to understand is that writers depend on these summaries for three significant reasons. 
The first is writing meta descriptions or summarizing text for general audiences. 

The second is shortening any given text to serve as a context for an entire article. 

The third and primary use of text summarization is summarizing text for social media. 
It is majorly used as social media captions by brands and businesses. You might notice many brands and businesses posting their blog article's links on their social media account. Along with it, they post a short summary to know what to expect from the said article. Here's why they do it;
Besides top ranks in search engines, bloggers employ multiple ways to reach their target audience. Some use social media; others depend on fellow platforms, i.e., guest posting websites, while a lot of them depend on emails.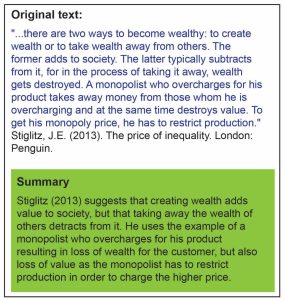 These bloggers that depend on email do not have the luxury of explaining something using hundreds of words. Considering that the ideal length of emails is around 150-200 words, summarizing a 2000-word article alongside the usual greetings is nothing less than a challenge.
Enter a text summarizer, and this challenge becomes smooth sailing. These summarizers help writers contain their work within a few words. It also takes significant conversation points from the article. 
If you're a writer, you know that your fingers won't stop typing once you're writing in a flow. In this flow, you might write something worth around 200 words and stretch it into 500 words or so. That's when you feel the need to shorten your text to keep it simple and easy to read.
However, doing so isn't easy, because why would you wish to get rid of something you've written so well? So, without compromising the integrity of your writing, you can shorten your text with text summarizers, such as the one mentioned before.
Because of their AI-based nature, these summarizers take the pulp of your conversation and write summaries around it. In the process, they get rid of fluff words, redundancy, and other non-essentials. Which allows a writer to shorten even the longest of texts. 
Create Captions for Social Media
A blogger, tempting users from social media, needs shortened text just as much as a blogger drawing traffic from email or direct messages. However, the ideal length of social media captions is within a hundred words.
How do you even mark the points you need to mention about your full-length article, i.e., 2000-2500 words? The answer is text summarizer once again. These summarizers allow you to choose the length you wish to limit your summaries—from longest to shortest possible.
This option allows you to keep the word count to a minimum while embodying the soul of your content. This is not only essential to write social media captions; it's also ideal for meta descriptions and snippets.
Steps to use online text summarizing tools:
Here is a few Step we will discuss to Summarize Text Online.
First of all, search the text summarizer by writing search terms on Google.

You will get  results of text summarizers on SERPs

Select any of it, but the editor suggested text summarizer is of

Text Reverse

.

Once you open the page of summarizer there will be an input to add text. You can either copy-paste the text or upload it from your device as well as from a dropbox and drive.

Once your text is uploaded, Click the "

Summarize

" button 
And in result, your text will be summarized
Benefits of using Text Summarization
Based on the uses of text summarization in SEO, what exactly are their benefits? As mentioned throughout, you can use them for emails, social media, meta descriptions, etc. However, these summarizers' cost-effective and convenient nature is also a significant benefit.
Something that writers hold dear more than anything else is time. If anything helps them save time, then it's their go-to tool or procedure. Text summarizers allow writers to save an immense amount of time by shortening their content. 
But, to help you understand the implications of all these uses, let's break down their benefits and their individual application. 
Helps Write catchy Meta Descriptions
In SEO, meta descriptions are a glimpse into the content that you write. These descriptions are essential to help your readers and search engine crawlers. Using the right keywords in these descriptions can help you entice your target audience.
On the other hand, a captivating meta description will allow the search engine crawler to index your content even faster. This alone should be your main concern about all the gains of using text summarizers. 
It will help you shorten long content without losing its integrity. It will also help you use just the right words for charming meta descriptions. 
Gives Your Reader A Glimpse
The best way to judge a reader's behavior is by asking yourself, "what would you do?" This process can save you a lot of time and hassle and help you understand your target customer's minds.
In this case, a reader doesn't wish to peruse a 3k word article if it doesn't contain the info they're looking for. That's why it's essential to give them a glimpse into your writing by writing short descriptions. That's precisely why using a summarizer is vital for SEO writers. 
Ideal in Attracting Social Media Users
When it comes to audience, social media captions act much like meta descriptions. Moreover, you need to condense your article, the one that you share, in a few words. Using a text summarizer can help you do just that and write the perfect social media caption.
Conclusions 
Text summaries can help you write bullets and implore the major points of your article. All these are essential in all the SEO aspects and social media and email usage. That's what makes a text summarizer a must-have tool in any writer's arsenal. 
Read More: