The Complete Content Marketing Checklist To Boost Engagement: Content marketing is the most important SEO strategy used by digital marketers for
increasing organic web traffic, generating unique and priceless content, getting leads while engaging the targeted audiences.
But for a successful content marketing campaign, you must follow the proven checklist. Below is the complete content marketing checklist followed by most of the SEO services company in Gurgaon.
The content marketing checklist includes all the essential aspects required for a successful content marketing campaign.
Follow the content marketing checklist to increase online visibility and avail maximum benefits that content marketing has to offer to your business. 
What is Content Marketing?
Before you follow the checklist, ensure that you have a clear idea of what content marketing is all about.
You must know what content marketing is for a successful digital marketing campaign.
Content marketing is the crucial digital market tool that involves creating, publishing, and promoting unique and informative content to targeted audiences.
The Content Marketing Checklist/cycle includes five important steps
Defining your audience 

Searching for content ideas to meet the intent of the target audience 

Generating quality and optimized content

Promotion of content via right platforms (Social Media)

Analyzing and optimizing the performance of content marketing campaigns          
1. Know Your Audience
Content marketing involves creating unique and informative content for right and targeted audiences. So,
the first step is to conduct market research and understand the target and right audience. With market research, you have to find the type of content mostly consumed by your audiences,
type of questions they have, what channels they use for consumption of content, and which type of products can solve their problems and boost search ranking.
Plus, analyze the demographics, and create diversified customer personas. There are online tools that can help collect and analyze these details required for content marketing. 
Must Read: 20 Best Social Media Marketing Tools That Will Boost Engagement
2. Developing a Quality Strategy for Content Marketing
Before delving into the process of finding the right type of content and topics to cover, it is essential to develop a quality strategy for content marketing.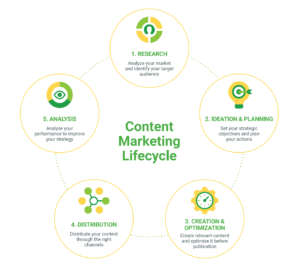 Ensure to cover the following factors in your strategy.
Your goals

Tools for conducting research

Tools for the creation of content

Budget and time to assign for the marketing activities

Frequency of publishing new content

Measuring the efficiency of all campaigns 

Channels for which content must be created

Type of content you need to publish and tools for content promotion

Who is the right person to help you in content creation      
Consider these factors before starting the process of content creation, and it would help you in planning and budgeting. 
Must read: How To Reduce Spam Score Of Your Website To Boost SERP Ranking
3. Ideas and Topics for Content 
The next big thing in the checklist is to know the methods for finding the keywords and topics to cover with content. Content marketing means creating the right and quality content for right and targeted audiences.
Creating content without purpose would act as a waste of money and time. Ensure to consider the following things while creating content. 
4. Creating a Plan for Content Marketing Checklist
After completing all the processes mentioned above, it is time to create a detailed and robust content marketing plan. Several factors are there that you have to keep in mind when creating a marketing plan.
It would be best if you decide when it is time for publishing content and on which channels it would be best, the actual title of the content, content length,
whether it is a pillar content or a part of a topic cluster or a supporting article, defining the target keyword, LSI keyword, long-tail keyword and reviewing the performance, and knowing when to update the content.
Must Read: The Ultimate Guide To Keyword Research For SEO 
5. Optimization of Content for SEO
Now, it is the most important part of a content marketing checklist. Before publishing any content, it is important that you optimize it for search engines for better ranking and increased traffic inflow.
With proper optimization of the content, your content can attract more users and SEO friendly content performs better on SERPs and for users. 
Seek the help of some reputed and reliable SEO services in India to optimize the content and promote in the right way for better outcomes.
The experts will help create SEO optimized content, promote it efficiently, and monitor the content's performance on search engines.     
Conclusion
I have shared the complete Content Marketing Checklist through that you can understand the content marketing strategies and can optimize your content to rank in search engines.
please comment your thoughts If you like the article.
Read More: