7 Things To Do Before You Build A New Website
Nowadays, every business has its website, and even small businesses know the importance of having an online presence to find them.
Your website is the backbone of your online existence. It is the ultimate bridge connecting your company to a stream of potential buyers.
It is practically impossible for any business to go without a website in today's digital world. 
Today managing a website has become easy; there are plenty of tools to help you and plenty of companies you can turn to for assistance if you need it.
Such as managed IT services that aim at handing over your IT operations to a third-party IT services provider, which takes responsibility to ensure high efficiency and​ timely improvement of your IT  processes.
When you consider building a website, you are new to this whole thing. You don't even really know where to start. Without a clear plan in place, you risk missing the vital elements for success.
So here in this article, we have listed seven things that you should do before building a new website. These things are as follows;
#1. Know your Goals
If you're thinking about starting a website, you must know what you want to achieve by developing a new website? Do you want to increase online awareness?
Do you want to boost lead generation? Or, do you want to drive revenue?. You must know about the goals you want to achieve.
Whatever your particular goal is, all the other steps laid out can play a role in helping you achieve it, which makes it essential that you figure the step out before going any further.
#2. How Can you Make Your Website Stand Out?
Once you have defined your goals, you can look at making yourself stand out from all the other sites in your space. An excellent way to do this is to do some competitive research on websites that are similar to yours.
Look at the kind of themes and designs they choose and think about improving the experience for your customers or offering something unique.
The sooner you can stand out for all the right reasons, the better off you will be.
#3. Choose your domain name wisely
When buying a domain name for your website, you have to think about more than just what sounds good.
Pick something short, easy to remember, and reflects the nature of your site. It's not easy to change it at a later date, so the perfect time is before building your website.
Of course, if your site is for your business, it makes sense for your domain name to incorporate it. 
#4. Know your Brand
Your website is a fundamental part of your brand, and it will help you for years to come as you try to attract new customers and develop your reputation.
With this in mind, you need to know what kind of image you want to have before you start designing.
As you plan your website, think about where you can place your logo, how you can create your site to look as attractive as possible, and what kind of branding colors you will use to capture the attention of your target audience.
#5. Make your website be easily found on search engines
When you design a perfect website, the next step is to ensure that search engines understand it to show it to relevant searchers.
Without a solid search engine optimization (SEO) strategy, even the most excellent websites will fail to rank high on Google drive qualified traffic.
So it is essential for newly build websites to find a suitable domain name in the early stages that visitors will type to find your business.
Before web page build, use a keyword research tool to identify a stream of highly searched terms related to your product or service offering. 
#6. Decide your Content
The content you provide as you build your website will bring more people to your site and cause them to stay longer and interact with your brand more.
Furthermore, the content you provide will help your business stand out better and help you to establish yourself as an authority in your market.
So your website should have contents that offer solutions to the customer's problems and information regarding product or service.
Think of your website content as a powerful way to showcase your expertise, build authority in your sector and develop trust with potential clients.
#7. Think about how will you promote your website
When you successfully build and publish a stunning website, it does not mean the visitors will automatically find their way to your website, But you need to make many efforts to reach the visitors.
When you have set your site up to go live, you will need to think about how you will market yourself.
People will not find your website on their own, and your SEO won't work without a little help.
Think about how you can develop your identity as quickly as possible through various solutions like social media marketing, content marketing, SEO, and more.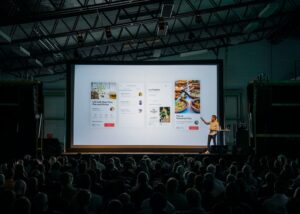 Wrapping Up!
Building a website comes with different challenges, but once you know the basic steps you need to take, it gets easy to move forward.
Once your website is up and running, you will face a whole new set of challenges, of course, but it's rewarding to see your traffic grow and your website takes off.
All you need to do is to consider some important things before building your website.
We hope that the listed seven things mentioned in this article will help you as a new builder of your website.
Read More: