Hello friends you are most welcome to this blog post where you are going to learn about the top 5 best rank tracking tools that can help you to analyze and check your current ranking keywords on the search engines.
Many beginner bloggers do this mistake didn't use any tool to track SEO and keywords which is the most important step to improve ranking on Google search engine
they just write the post and published which is not good enough to rank in search engines. So you must read proper content and
do proper on-page SEO after targeting keywords properly you must use some tools through that you can track your targeted keywords that they are ranking or not otherwise
you can also check which keyword of your article is ranking on Google. If you really want to improve your website SEO level so you must manage the keyword tracking
that can help you to find out the best keywords and low keywords after that you can optimize your content for better results.
Benefits Of SEO And Keyword Tracking.
Before going with the SEO and rank tracking tools I would like to tell you some benefits of SEO and keyword tracking in real life.
Because knowing about tools but don't know the benefits of these tools then your knowledge will be incomplete that's why I am sharing the advantages of rank tracking tools.
#Understand The Trends
By tracking the keyboard we can understand what keywords are ranking in the SEO trend then you can update the keywords on your blog post after that
if you see the improvement in ranking then you should keep using this strategy to boost your search ranking and web traffic as well.
#Boost Your Revenue
After analyzing and taking the keywords you can understand which keyword is on which position and which keywords are ranking after that
if you find out any issue with your words regarding ranking so you can replace that keyword with another then
you will see your website ranking is improving afty that automatically it will push your site to higher web traffic which would use your revenue also.
#Monitor Your Competitors
You can basically use rank tracking tools to know the performance of your website on search engine and
Others can also track any of your Competitors' performance and keywords that they are doing to like their post and website.
So by tracking and monitoring your computer you can maximize your benefits through knowing the strategy of their ranking factors.
#Rectify Traffic Drops
you know you're tracking is the most essential thing for any marketer expert blogger digital marketer and agency because
if you see any drop in your web traffic so you must track the SEO and keyword of a website this keyword is going down and reducing your website traffic
So you can track keywords and after analyzing this you can replace that keyword with another to rectify traffic drops as soon as possible.
Must Read: The Ultimate Guide To Keyword Research For SEO (Updated)
Top 5 Best Rank Tracking Tools
Let's get started with the main content where I am going to share the top 5 best rank tracking tools through that
you can track your website SEO and keyword easily and after that, you can earn improvements on some changes.
1. SEMrush
SEMrush is the most popular tool about SEO and keyword researching process it is one of the unbeatable SEO tools in itself it has its own reputation in the market.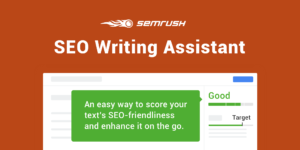 You can use this rank tracking tool to analyze and find out your currently ranking keywords.
You don't need to hard work just simply put your website URL or an individual article URL in the search bar then click enter
after that, it will provide you all genuine data regarding keyboard tracking and SEO.
How SEMrush adds keywords for keyword rank tracking.
You can add keywords to SEMrush by:
Connecting Google search console with SEMrush to get keywords from there.

Adding or typing keywords manually on SEMrush

Entering the domain name to get all top-ranking keywords.

Using file  ( .TXT and  .CSV) 
If you are running an agency and you have more clients so this tool can be more beneficial for you you can set here weekly notification option on ranking changes then
 it will keep notify you about rank changes going on your website weekly basis that will save you more time.
2. RankWatch
RankWatch is one of the most popular and useful rank tracking tools. You can easily use this tool for checking keyword ranking along with search engine ranking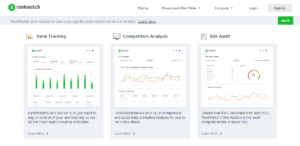 it will provide you some additional features like it will show you CPC and search volume for any keyword and query.
While searching for a keyword you get many options such as selecting search location in the desktop or on mobile then you can search for one or more keywords at once.
Read It's more features.
#Check with 170+ countries 
#Keyword tracking on city-based 
#Includes all major languages
#Track for sub-domain & sub-URL
#Google Featured Snippets Tracking
#Provides ranking screenshots
#Rank Update Frequency
#Provides rank Alert through email
#Advance filter for keywords
Its the price is reasonable; you can select as per your comfort based on daily rank updates, weekly rank updates.
you can easily track more keywords and about Its interface that is too simple to use. RankWatch really provides more relevant features as compare to another tool.
3. AccuRanker
AccuRanker tool is one of the most popular rank tracking tools which gives you more features so if you are looking for the best rank tracking tool in the premium version so you must go with this tool.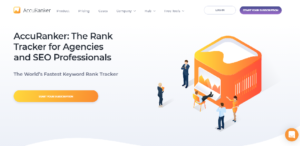 Its amazing thing is this death you can use it easily because of having an easy and simple interface to get started.
This tool really provides accurate, amazing, and relevant results on a single click where you can find out its preview and snapshot of search results.
which will be more beneficial for you if you are running an agency so you can show your clients what is the ranking updates of their websites and your client will be happy to see the report of progress.
This tool has many premium plans based on the number of keywords also go with its 14 days trial.
4. Wincher Rank Tracker
Wincher Rank Tracker is the most relevant and simple tool to use it is available at a reasonable price and a dynamic pricing model that makes it different as compared to other rank trackers.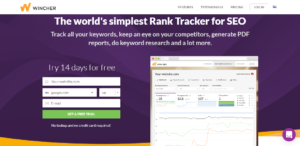 Here you are given an option to that you can choose the number of domain all keywords that you want to track then you can easily track any keyword and analyze that properly.
It's more beneficial thing is that it provides data accuracy, PDF, and automatic ranking alerts.
You can also use its WordPress plugin which will save your time to analyze and track any keyword.
See some more key features
#Accurate date tracker
#Daily rank tracking
#Detailed pdf reports
#Competitors keyword tracking
#Automatic rank alerts
#Wordpress plugin available
#Website and keyword categorization
#mobile and desktop-based tracking
5. Google Rank Checker
Google rank checker is the most excellent tool for beginner bloggers are marketers this is the best free tool.

that helps you to find out your keyword rank position in the Google search engine. It basically tracks the keyword you provide.
You don't have to do any complicated task here you just have to enter your keyword which you want to check with a domain name then
it will provide the position of your article for the targeted keyword you have specified.
Conclusion
I have shared the top 5 best rank tracking tools that will help you analyze and find out all ranking factors of your and your competitor's website so that you can take a proper step to go-ahead.
here I have also defined the benefits of rank tracking tools that will clear your view of using these tools for SEO and rank tracking.
Read More: