Google Trends is a free online tool that presents a graphical interpretation of data about the most searched terms on Google and YouTube. It is a useful tool that allows marketers to understand what people are curious about or interested in real time.
This makes Google Trends a powerful SEO tool that often goes underutilized. With Google Trends, you can find out what's trending, identify trending topics within any industry, and even discover search trends specific to your local area.
Simply put, Google Trends can prove invaluable for SEO if you only know how to use it correctly. So, in this article, we will look into the ten ways you can use Google Trends effectively for SEO.
1 – Keyword Research
Keyword Research is arguably the single most important aspect of SEO. Google Trends works as a phenomenal keyword research tool. 
If you have a search term, simply type it into the search box on the tool's homepage. This will result in Google Trends searching for the most popular keywords about the term you entered.
For example, here is a screenshot that shows related keywords for the term "Digital marketing".

Google Trends will revert with a graph that depicts the search term's popularity over the past 12 months. This way, you can easily find trending keywords while avoiding using keywords that are diminishing in popularity over time.
2 – Related Keywords
Another of Google Trends' most impressive features is its ability to recommend related keywords that show the promise of becoming popular shortly. 
Not only will Google Trends grace you with results for your search term, but it also recommends keywords closely related to the search term you've entered. 
Once you've hit the search button on your chosen term, scroll down the homepage to arrive at the 'related queries' section. Here you will find keywords related to your search term ranked in order of their popularity.
3 – Find Related Content Topics
Google Trends can play an integral role in designing your content strategy. 
Aside from helping you find relevant keywords, Trends also helps you discover relevant topics that marketers can leverage to create compelling content in blogs and videos. 
You'll find the 'related topics' section beside the 'related queries' section on the homepage. Here Trends will introduce you to broader topics consumers are actively searching for.
By toggling between 'rising' and 'top,' Trends will present a list of trending topics and get the most searches on Google, respectively. The broad topics recommended by Trends are useful for SEO, as you can now create content that complements new trends.
4 – Target by Location
A remarkable feature of Google Trends entails its ability to learn about the interest surrounding a particular keyword, product, or service based on regions and sub-regions. 
Simply put, Trends allow you to understand exactly which region or subregion in your locality or country shows interest in your product or service.
This feature is incredibly useful for local brick-and-mortar stores that want to expand their operations to other regions. They can devise an effective expansion strategy by targeting only areas with the highest demand for whatever they sell.
For example, searching for 'Oreos' on Google Trends will show which region in the country is most interested in the product if you scroll down to the 'interest by sub-region section.
5 – Narrowing Down with Big Keywords
Perhaps the best way to make the best out of Google Trends is by using a huge keyword in its search box. Once you insert the keyword and hit enter, you can use the various filters provided by Trends to find the ideal keyword to improve your SEO. 
For starters, you can use the 'worldwide' filter to target a specific market geographically. You can also filter your search for the right keyword by 'category.' You can also make use of time selection properly.
We recommend using multiple time selections first to have a clear picture of the short-term and long-term trends. Suffice it to say starting with a big keyword and using filters to narrow it down to the most relevant information will help your SEO strategy immensely.
6 – Using Trends' Various Search Options
Aside from the traditional search box to help you find relevant information, Google Trends offers several other equally effective options for finding new keyword ideas. 
Options such as Image Search, News Search, Google Shopping, and YouTube Search help you find ideas that target popular queries and topics from several segments of a potential market.
Although you won't identify specific keywords, you will get information for searches that have been trending. You also get real-time data for searches spiked in the last 24 hours.
7 – Leveraging LSI Keywords
LSI, aka Latent Semantic Indexing, is a computer program conceived of learning various synonyms related to context. 
LSI is a powerful AI that uses mathematics to draw a relationship between words and their context about their place in a particular piece of content. Google Trends can help you discover LSI keywords, thus helping with on-page SEO.
Once you've found a relevant keyword on Google Trends, you need to insert it into your content organically or in a way that makes sense. 
Adding context to any keyword can be done on Google Trends using the 'compare' tool to insert new keywords, filter keyword searches by category or location, or conduct web searches.
8 – Analyse Competitor's Position
The 'compare' option of Google can be used to learn about your competitor's current standing and performance in the market. 
Knowing your competitor's position will also help you determine your position in the industry," says Carly Bryanna, Director of Paid Media at Haitna – An SEO agency in Dallas.
For instance, if you own a publishing house, you may want to know how your close competitors are faring.
Let's say you are competing in the market with the publication house Penguin; you can use Google Trends to compare your company's performance with Penguin to find out which company is more popular over a given period. 
Here is a screenshot comparing different search engines, Google, Yahoo & Bing.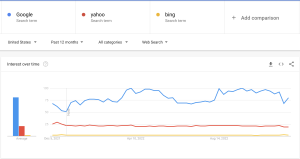 You can devise a strategy to outperform your competition based on the result.
9 – Finding the Right Time to Post Google Shopping Ads
Google Trends can do wonders for your eCommerce business. Google Trends can help you determine the appropriate time to create and launch a Google Shopping Ad. 
Google Trends has a dedicated feature supporting Google Shopping Ads. The tool tells the best date and time to broadcast your ads.
There is a right time for everything when it comes to marketing a product more efficiently. Google Trends helps you determine when your ad can garner maximum visibility online. Let's say you own a restaurant furniture store. 
Referring to a graph that shows how 'Restaurant Furniture' is trending over time in your targeted region will help you post a shopping ad at just the right time for maximum traction.
10 – Optimizing Performance for YouTube
Besides improving a website's performance, Google Trends can be the perfect tool to boost your brand's presence on platforms like YouTube. Video marketing via YouTube has emerged as an effective tool to promote one's brand, product, or service. 
In a report published by Optinmonster, it was found that 84% of customers studied claimed to have been convinced to buy a product or service after watching a video on it.
Note that YouTube can be used to generate interest for your brand considerably, and Google Trends only helps make YouTube marketing more productive. 
Google Trends can be used to plan your entire YouTube content calendar accordingly. Using Trends with YouTube will help you understand when to post a video and what kind of video to generate more interest for your brand.
How to Use Google Trends to Create SEO-Friendly Content?
The role Google Trends can play in enhancing SEO should be quite obvious to you by now. Trends arms you with all the tools you need to optimize your site's performance and improve its search engine ranking. 
One of the ways it does so is by helping you enrich content with the right keywords.
Google Trends can be used to create SEO Friendly Content in the following ways:
1 – Conceiving Blog Topic Ideas
Content in blogs, articles, or videos is integral to improving your site or web page's performance. 
Google Trends helps you discover topics or keywords relevant to your blog that are trending right now, thus helping you capitalize on a specific term or topic's popularity over time and location.
Once you insert your search term and hit 'enter,' you are graced with relevant keywords. Scrolling down will acquaint you with the 'related queries,' and 'related topics' sections that list broad topics ranked based on their popularity. 
You can use this information to develop blog topic ideas guaranteed to bring traffic to your site.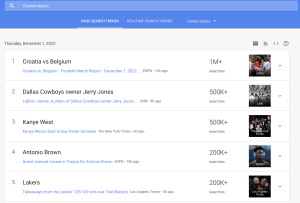 2 – Optimizing Content for Local Search
The best part of Google Trends is that it allows you to optimize your content based on the popularity of local search terms. 
For instance, searching for the term 'Rolex Watches' in the United States will show you which region depicts higher interest for the search term.
This information can be leveraged to create blog content targeted to a specific location where the demand for your product or service is visibly high. This will naturally improve your content's visibility and boost its search engine ranking position.
3 – Keeping Content Up-to-date
Certain topics or keywords fade in popularity over time. Google Trends helps you identify these elements in your content and replace them with keywords that are trending right now! 
For instance, your blog content on 'online faxing' may have once featured the keyword  'fax via email,' which has now become obsolete.
You can immediately tweak your content slightly by organically replacing it with a more popular keyword. 
Google Trends will help you identify ineffective keywords and suggest a new keyword currently growing in popularity to optimize your content for SEO or maintain its high SERP to keep up with changing times.
# Google Trends & SEO – FAQs
1 – Is Google Trends Good for SEO?
Google Trends is a powerful tool marketers can use to find out what people are searching for on search engines in their target market. 
Trends can help marketers discover topic ideas and keywords that can be used to optimize their web page for SEO. This makes Google Trends a pretty useful tool for SEO.
2 – What is Considered a Good Score on Google Trends?
A score that is mentioned against search results on Google Trends determines their popularity level. 
A search term with a score of 100 is considered the ideal score. A value of 50 means that the term is only half as popular. A score of 0, on the other hand, means there wasn't enough data available on the concerned term.
3 – How Accurate are Google Trends?
As Google Trends uses data sources directly from Google, we can safely presume it is accurate in the graphical form of the information it offers users. It is also important to note that Google Trends is pretty accurate in keyword research for SEO but not as effective in predicting future fads.