Given that more people are embracing online services and that 28% of all commercial activity is expected to occur online by 2023,
your company's marketing plan has to contain a thorough online strategy, whether through SEO or digital marketing, before it's introduced to the market.  
And when putting together an online growth strategy, purchasing a premium domain name is a step you can't overlook.
A short, memorable, premium domain name can help you immediately win the confidence and trust of your customers. 
However, there are certain confusions about the basic properties of good premium domain names, and if you don't know the essential qualities of a great domain, it could make the domain-finding process a hassle for you. 
So without further ado, let's go through some valuable characteristics that a premium domain name should have.
Three Characteristics to Watch for When Selecting a Premium Domain Name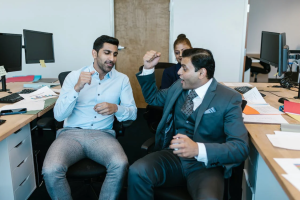 It Must Align With Your Business
Don't make the blunder of picking a domain name that's not an exact match of your company name.
Choosing an exact match domain (EMD) will make it easier for customers to trust your site and refer it to their close friends and family.
Not to mention that EMDs are distinctive, simple to brand, memorable, quickly stand out from the competition,
and express the essence of your company's personality. Always keep in mind that your domain name is the online version of your company's business name. 
This is why we often caution business owners to take their time choosing a special name that reflects every facet of their company since doing so is one of the best ways to get a powerful, brandable domain name. 
Companies with well-known brand names like Google, Amazon, and Tesla also bought domain names that mirrored their corporate identities.
And they purchased those domains despite the fact that those domains were expensive. Therefore, be sure to make choosing a memorable name for your company your first concern.
It Must be Quick and Concise. 
When looking for a premium domain name, ensure that you search for one that is short, interesting, memorable, and simple to speak and spell.
A catchy and simple-to-say domain name is an effective method of bypassing the drawbacks of our finite and unreliable human memory.
Additionally, it will make it easier for your customers to search, discover your domain, and recommend it to others.
And if you're looking to come up with a short, engaging, and memorable domain name, then you can do that by: 
Crafting Unique Words:

Use your imagination to create words that precisely capture what your company has to offer and the essence of your brand. Popular companies like Gmail and WhatsApp have followed this path.

Using Real Words:

Another option is to use a thesaurus and dictionary to look up existing words that fit the character and identity of your company. Popular businesses like Tesla, Apple, and Amazon choose precise words relevant to their industries and then gave them new meanings.

Use Acronyms:

Simplifying a difficult word is another method for creating a distinctive brand name. Examples include businesses like MAC, which stands for "Make-up Art Cosmetics," and Microsoft, which stands for "Microcomputer Software."

Using a Business Name Generator:

The easiest and fastest approach to come up with

creative names for businesses

that fit your company's requirements and guiding principles is to use a reliable name generator.
It Must Have a Top-Level Domain (TLD)
Despite the progress the internet has made, the most recognizable websites continue to employ top-level domain extensions like '.com,' '.org,' and '.net.
According to a report from the Internet Assigned Numbers Authority (IANA), there are currently over 1,500 registered domain extensions available.
But due to the monopoly of TLDs, the majority of people who visit a brand's website think and anticipate that it will be a Top-Level Domain like '.com.' 
And even though TLDs are more expensive than other regular domain extensions, they offer significant advantages for establishing customer confidence. 
However, if the '.com' version of your desired premium domain name is not available, you can still find success with regional TLDs like '.co.uk,' as well as emerging ones like '.io' and 'co.'
Conclusion
Every entrepreneur new to the market requires a comprehensive business plan that addresses all aspects of the expansion of their organization.
And when drawing yours up, remember that the simplest approach to succeeding online begins with having a premium domain. 
You must select domain names that are simple, brandable, and consistent with your company identity. And if you want to maximize your online presence, avoid domain names that contain symbols, digits, and misspelled words, as they will be more difficult for customers to pronounce and lose value.
Grant Polachek is the head of branding for Squadhelp.com, 3X Inc 5000 startup and disruptive naming agency.
Squadhelp has reviewed more than 1 million names and curated a collection of the best available names on the web today.
We are also the world's leading crowdsource naming platform, supporting clients from early-stage startups to Fortune 500 companies.