In this rapidly growing era of technology, people barely get time to scroll around to look for the relevant answers and compare from more than one site. That is why the race to provide the best results on search engine pages is the field of that rising competition.
Search Engine Optimization is a complete strategy, and it's nearly impossible for you to do all the heavy lifting for ranking a website among the top shelves of search pages.
In order to make this job more accessible, the internet has provided us with a web-based service to improvise the SEO of our websites.
8 Best SEO Tools For Bloggers to Increase Traffic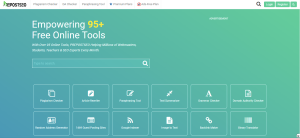 Whether you're working on a marketing website, informational article, or promotional blog, the written content featured on webpages of your website would get your website through the rising competition of search engines.
That's why writers and Bloggers should be concerned about the quality of written content. Moreover, if the quality of the content is not according to the standards defined by search engines, it can get you penalized. 
Therefore, check plagiarism online before posting content on any publication platform. This tool provides a wide range of options for report generation and plagiarism checking of a website that gives you the confidence to post content online.
How This Tool Helps to Increase Traffic:
Allows to check plagiarism in various languages

Underlines the plagiarized content with different color coding

Provides the source link for plagiarized content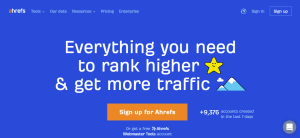 If you're looking to perform an SEO analysis of your competitors, go for Ahrefs online platform. This platform lets you learn about the websites linked to your competitors, which provide ranking support to jump up the SERP shelves.
Ahrefs is a preferred tool by SEO experts for website audit generation. Experts mainly use this tool to analyze their competitor's websites and seek guidance from their SEO strategy.
In addition to website auditing, Ahrefs also provides services to monitor projects.
How This Tool Helps to Increase Traffic:
Provides total ranking strength and domain rank of a website

Provides a complete backlink profile of a website

Provides ranking factors for organic and targeted keywords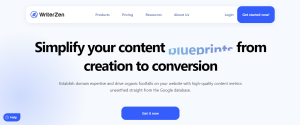 WriterZen defines the meaning of SEO-optimized content writing. This tool generates data from Google and provides keywords to feature within your content. 
Using this tool, you can create effective topic headlines, SEO-optimized content, and relevant subheadings to your main title.
Using this tool, marketers, SEO content writers, and small businesses can improve their capabilities to the next level. The following features make this a standout option from others.
How This Tool Helps to Increase Traffic:
Identify golden topic opportunities to create engaging content

Select and feature ranking keywords in your content

Provides relevant data by analyzing your top-ranking competitors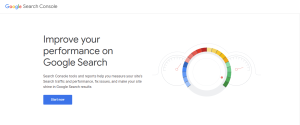 The world's number one search engine offers its official product to keep you updated with the latest statistics. The Google Search Console reports on the most affecting methods of your website to state a website's ranking capability on its search pages.
The factors analyzed by Google Search Console include visibility of a website, usability of a website, and use of keywords that affect the ranking of a website. Using this tool, you can also learn about the kind of audience that visits your website.
How This Tool Helps to Increase Traffic:
Provides detail on backlinks and visiting audience

Supports mobile usability

Allows geographical targeting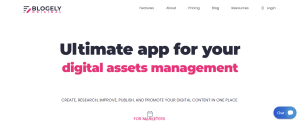 If you're into blog writing, this tool is the perfect pick. Blogely is the top-recommended tool for content creators and content managers to publish, research, and create content in any language.
Blogely makes the job of idea generation a lot easier for content creators and blog writers.
How This Tool Helps to Increase Traffic:
Research Docs allows to collect of featured snippet keywords and provides answers

Helps to organize text and multimedia files in one location

Enables collaboration and manages content creation workflow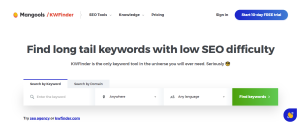 Keyword research was never so simple until the KWFinder by Mangools hit the online tools market.
Under a paid subscription, this tool allows 100 keyword lookups per day. But if you want to avail a free trial, you get three keyword lookups per day under a 10-day trial.
This tool has a unique 'Rank Tracker' feature that provides relevant keyword suggestions to feature in your content.
Moreover, you also get insights on the search volume of a keyword, cost per click, keyword difficulty, and keyword trending against other competitors.
How This Tool Helps to Increase Traffic:
Extracts complete information on keywords from ranking competitors

Supports keywords research in multiple languages

Provides search volume and keyword difficulty on specific keywords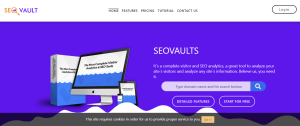 The best tool for small businesses is here that'll help to monitor a website's performance for a reasonable price. This tool is best for businesses because it provides detailed insights into visitors.
Small business websites are looking for growth opportunities by learning more about the kind of audience they are attracting to their platform. With the Google Adwords Scraper and visitor analytic tool, you get the best of both worlds on one platform.
How This Tool Helps to Increase Traffic:
Social network and website analysis

Allows domain and IP analysis

Supports Google Tools and Utilities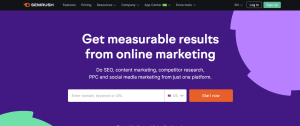 SEMrush is the tool almost used and recommended by every SEO expert. It's an excellent platform for generating a digital marketing strategy. This tool supports API integration to make it compatible with Google products like Docs and Search Console.
You can use this tool to compare ranking factors of your website with another website to highlight any areas of improvement. Moreover, you can improve your website's performance with the on-page SEO checker.
How This Tool Helps to Increase Traffic:
Allows keyword review and position tracking service

Provides a complete set of content marketing tools

Supports API integration with Google Products
Conclusion
Manually performing search engine optimization tuning can be a time-consuming activity. That's why technology automation is here to make the job more efficient. Using online SEO tools, you can easily compare your website with other competitors with just a few clicks