Introduction 
Ecommerce marketing is an effective tool for small businesses and entrepreneurs to reach their target consumers and obtain the most exposure for their goods or services.
This Ultimate Guide to Ecommerce Marketing seeks to offer helpful information on how to most effectively utilize this fascinating digital platform. It is an ever-evolving and expanding sector.
This manual offers not only the fundamentals of e-commerce marketing but also important pointers to aid in formulating a winning plan.
We begin by establishing reasonable goals and comprehending client personas before moving on to marketing strategies like SEO, PPC, social media marketing, and email marketing.
We also go over how to track user activity on a website, optimize it, and calculate ROI.
Understanding the Basics of Ecommerce Marketing:
Any online business' success depends critically on ecommerce marketing. The foundational ideas and guiding principles of ecommerce marketing will be covered in this part.
The value of selecting target audiences, comprehending customer behavior, and carrying out market research will be covered.
Important subjects including product positioning, competition analysis, and branding strategies will also be covered.
Businesses may build a solid marketing strategy and successfully connect with their target clients by grasping the fundamentals of ecommerce marketing.
Building a Solid Ecommerce Marketing Strategy:
For long-term success, it is essential to create a clear e-commerce marketing plan. Readers will be taken step-by-step through the process of developing a thorough marketing plan that is especially suited for e-commerce enterprises in this section.
It will cover important topics including creating specific objectives, identifying target markets, figuring out unique selling propositions, and developing a brand voice.
It will also examine various marketing strategies and tools, such as paid advertising, content marketing, Boost your social media presence, and influencer alliances.
Building a strong ecommerce marketing strategy will help businesses reach their target market, increase traffic to their online store, and increase sales.
Optimizing Your Ecommerce Website for Maximum Conversions:
A properly optimized e-commerce website is essential for turning visitors into paying consumers.
This section will offer practical advice and best practices for enhancing an e-commerce website's numerous components, including the product pages, navigation, checkout process, and mobile responsiveness.
It will go into detail on how crucial it is to have captivating product descriptions, excellent pictures, positive customer feedback, and user-friendly design.
It will also look at methods for improving site speed and lowering cart abandonment rates. Businesses may improve user experience, increase conversions, and increase their online revenue by putting these optimisation tactics into practise.
Leveraging Social Media for Ecommerce Marketing Success:
The use of social media networks as marketing tools by e-commerce companies has increased significantly. The various social media platforms, such as Facebook, Instagram, Twitter, and Pinterest, will be examined in this part along with practical exploitation techniques.
It will go through issues including developing captivating content, using visual media, executing targeted advertisements, and building a community of brand champions.
Furthermore, it will offer guidance on how to gauge social media success and adjust strategies in light of new information.
Ecommerce companies may boost their brand visibility, interact with their audience, and generate traffic to their website by utilizing the power of social media.
Email Marketing: A Powerful Tool for Ecommerce Businesses:
Email marketing is still a very powerful technique for e-commerce companies to develop client relationships and increase revenue.
We'll look into the numerous facets of effective email marketing campaigns in this section.
It will go through issues like developing a good email list, producing tailored and interesting content, audience segmentation, and using automated workflows.
Additionally, it will look at methods for boosting open rates, click-through rates, and email deliverability.
Ecommerce companies may improve client retention, encourage repeat business, and increase overall income by putting into practise efficient email marketing methods.
Harnessing the Power of Influencer Marketing in Ecommerce:
Influencer marketing has become a potent tool for e-commerce companies to connect with and interact with their target market.
The importance of influencer marketing in the ecommerce environment will be covered in this part, along with advice on how to find and work with the best influencers.
Setting marketing goals, negotiating agreements, and assessing the results of influencer collaborations will all be covered.
It will also look at methods for calculating return on investment (ROI) and assessing the success of influencer marketing efforts.
Ecommerce companies may effectively use influencer marketing to generate brand recognition, boost conversions, and grow their client base by using the authority and credibility of important people.
Search Engine Optimization (SEO) for Ecommerce Websites: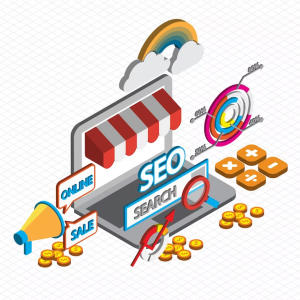 Enhancing ecommerce websites' visibility and organic traffic requires search engine optimization (SEO).
The important components of ecommerce SEO, including keyword research, on-page optimization, technical SEO, and Effective link building strategies for Michigan SEO, are covered in this section.
It will offer practical advice for enhancing site architecture, URL structure, mobile friendliness, meta tags, and product descriptions.
Additionally, it will look at methods for using user-generated content, doing competitive analysis, and voice search optimization.
Ecommerce companies may improve their online exposure, rank better in search engine results, and get targeted traffic by putting efficient SEO tactics into practice.
Analyzing and Measuring Ecommerce Marketing Performance:
Making data-driven decisions and increasing overall effectiveness require measuring and analyzing the performance of ecommerce marketing initiatives.
The tools and measurements that ecommerce businesses can use to monitor the success of their marketing will be the main emphasis of this section.
It will go over subjects including configuring Google Analytics, examining website traffic, keeping an eye on conversion rates, and monitoring key performance indicators (KPIs). Additionally, the significance of A/B testing, heatmaps, and customer journey analysis will be covered.
Businesses may find areas for development, optimize their marketing strategies, and get better outcomes by efficiently analyzing and assessing the efficacy of ecommerce marketing.
Conclusion 
In summary, The Ultimate Guide to Ecommerce Marketing is an in-depth and helpful manual for business owners and entrepreneurs looking to capitalize on the potential advantages that e-commerce has to offer.
It offers helpful details on the different facets of the e-commerce marketing procedure, including consumer segmentation, ad campaign creation, connection maintenance, and data management.
Entrepreneurs and business owners can create a prosperous ecommerce company by implementing the ideas and techniques outlined in this guide.
The benefits offered by e-commerce can be fully utilized by business owners and entrepreneurs while minimizing costs with the aid of this guide.
This comprehensive guide is an excellent tool for people looking to successfully market their e-commerce company in the current digital era.